Making Meetings Tolerable: Meeteor
I am currently working with a SaaS startup called Meeteor as the UX Lead. My main focus is on improving the onboarding experience in order to increase user retention. Meeteor makes meeting management software to guide users through the meeting creation and note taking experience by providing a structured way to improve meeting outcomes. 80% of users who create a Meeteor account, either through self sign-up or invited sign-up, never return. The KPI's are # of meetings created and # of active users. The company is currently working to improve the platform in time for an April full site launch.
Business Goal: Enhance user experience of Meeteor onboarding process to increase user acquisition and retention
Length: Ongoing
Team: Solo UX designer, supported by 10 people in development, product, and business teams.
Contribution: UX Lead
Tools: InVision // Trello // Slack // Sketch // Google Sheets & Docs
I used:
Heuristic Evaluation to analyze current site's usability practices
Usability Testing to understand users ability and experience completing key platform tasks
Competitive Analysis to scope the market's approach to similar challenges and interactions
Heuristic Evaluation: Self Sign Up
Key takeaways:
System lacks appropriate feedback to user for error prevention and handling
 
Copy does not convey warm and friendly brand the business team desires
 
Although hotspots seem voluntary, they won't go away unless user clicks them, thus falsely communicating commands for onboarding
 
No clear call to action after user is onboarded
 
The titles for each text field are missing
Heuristic Evaluation: Invited Sign Up
Key takeaways:
Low contrast borders make it difficult for user to distinguish important tasks with rest of platform
 
User is not provided context of how their team is structured on Meeteor
 
Copy is disjointed from the warm and friendly brand vision
 
The titles for each text field are missing
Key takeaways:
Value proposition is clearly communicated on each onboarding page
 
Use of product shots helps describe platform without verbose helper text
 
Use of contrast color for side/top navigation helps anchor user once on platform
 
Text box title and helper text are used separately
 
Allow user to end onboarding tour at any point

 
Usability testing current site
Testing:
Self Sign-Up: Sign up from Marketing page (3 users)

Create a Meeteor account
Create a meeting
Invite 1 person to Meeteor

Invited Sign-Up: Sign up from email (3 users)

Accept sign-up to Meeteor
Create a meeting
Find out who else is on your team
Results:
System Feedback - Fails to notify user when

Adding someone in workspace info
Adding someone to a meeting
Adding a date for a meeting
 

Concept - Users are confused about

Workspaces
Interaction between co-workers on platform
 

Interaction - Users are confused about how to

Invite/view co-workers
Complete tasks due to lack of effective call to action
Users need a way to understand the platform and its main actions without dense copy and tool tips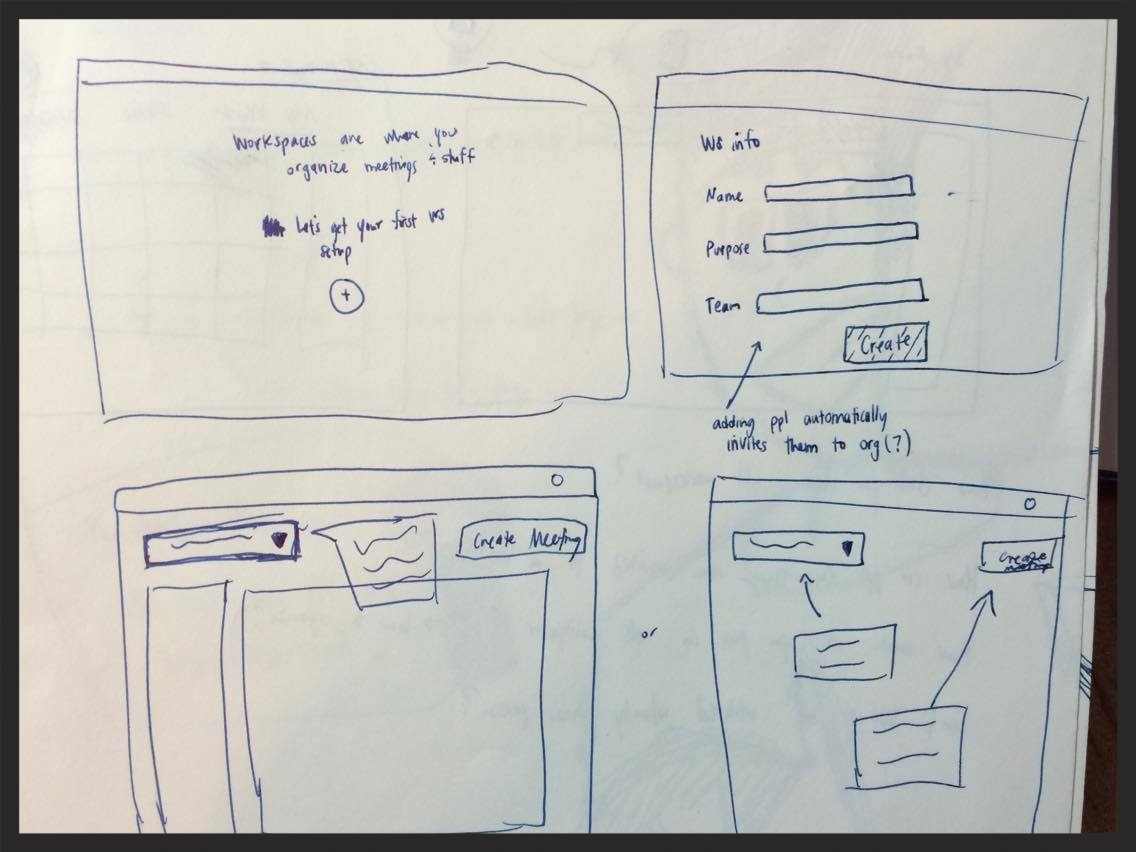 I began to reimagine how the onboarding process could look and feel. I was seeking a quick way to demonstrate the value of the product while illuminating how to use it very quickly. Based on the user tests, I realized most people will not read every line of copy so we couldn't use instructional paragraphs as a crutch any longer. I was quite alarmed at how poor the onboarding experience was for invited users, so I tried to figure out how to show them that they weren't alone on the platform. The key, I found, was to encourage collaboration - a goal the current site failed to accomplish. I sketched extensively, garnered feedback from team members, and iterated as needed.
Usability Testing the Prototype
I wrote a screener survey and posted it to Craigslist NYC looking for candidates who attend at least 3 meetings/week, are between the ages of 25-50, and work in an office. Within five days I got 370 responses and filtered that down to 97 qualifying candidates. I scheduled 8 user tests, offering a $40 Amazon gift card for a 30-minute usability interview.
Testing:
(4) Invited & (4) Self Sign-Up Users
reate a meeting
Get a co-worker to sign up for Meeteor
Schedule a meeting with their co-worker
 
Results:
29% increase in invited user satisfaction with the overall product and creating a meeting
66% increase in create meeting task completion for invited users
33% increase inviting/viewing team task completion for invited and self sign up users
Create Meeting call to action is clear and draws user attention
Dropdown is best interaction for adding participants
Two calls to action for invited sign-up is ineffective
Notes and Roles are WOW moments
Users look for developed platform status - may be solved with demo meeting/workspace
New Feature - Global Add
The business goal for onboarding was for each user to create one meeting and invite one person to Meeteor. In order to more effectively facilitate these two important interactions, I designed a global add button. This feature solves the confusion users face on the 'My Work' page, where there is no CTA - a frequent error in user tests. The pop of color is meant to draw the user's eye to the global add button.
Iterated Onboarding Design in progress...